New album
Recorded and mixed at DADA studios, Brussels by Christine Verschorren in September 2014, additional mixing and mastering by Uwe Schwidewski at the ENJA Studio, Munich in March, 2015.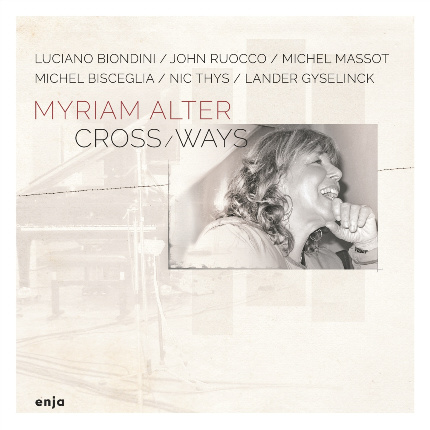 Myriam Alter's new CD "Crossways" presentation at the Archiduc (Brussels), october 10th 2015

Myriam Alter – compositions; John Ruocco – clarinet; Luciano Biondini – accordion; Michel Massot – tuba, trombone; Michel Bisceglia – piano and arrangements; Nic Thys – double bass; Landers Gyselinck – drums .
1. Again (4:42), 2. No Man's land (5:34), 3. Inviting You (6:39), 4. Weird Mood (2:21), 5. Dancing with Tango (4:13), 6. Back to Dance (4:49), 7. Don't Worry (4:56), 8. How Life can be (3:23), 9. Above all (6:01), 10. Crossways (3:41), 11. No Room to Laugh (1:58)
After her two highly successful albums for ENJA (ENJ-9451 IF feat. Dino Saluzzi and ENJ-9513 Where is there feat. Jacques Morelenbaum) it was time for Myriam's third production of her unique, sometimes joyful, sometimes melancholic but always Mediterranean tinged music.
Myriam's mother grew up in Saloniki and evidently gave this background to her daughter, a Sephardic-Jewish, Turkish, Italian jazz melange always present in Myriam's compositions.
The ensemble was selected by the sound requirements it should provide, placing the accordion into a central spot which is greatly filled by Italian Luciano Biondini, the leading virtuoso of his instrument today. US Clarinetist John Ruocco (who lives in the Netherlands) fullfills an important soloist's role as he did on the previous albums and Belgian bassist Nic Thys impresses with his strong acoustic bass foundation. The liquid tuba of Belgian Michel Massot will be a discovery for many as will be the creative percussion by young Dutch Landers Gyselinck who is making a name for himself right now in both the jazz and the avant-garde rock scene. Italian Michel Bisceglia who lives in Brussels provides subtle, crisp piano solos and his arrangements support the compositions so well.
At the very end of this exciting production Myriam sat down at the piano and played spontaneously a short solo piece dedicated to her old friend Mal Waldron, funky black music. Nothing could end this fantastic session any better.
We all think that Crossways is her best recording so far.